Create Drinking Water From Air
Create safe, healthy, filtered drinking water virtually anywhere. Learn more below and Call (888) 601-3737 with any questions.
Buy now only $162/mo.
How does it work?
H2O Machine's™ patented technology creates water by harvesting moisture from the humid ambient air.
From the Air to your Cup
An atmospheric water generator (AWG) is a device that extracts water from humid ambient air. Simply put the AWG captures and filters humid air around you bringing it to its dew point. The water is then collected and filtered again to create safe, healthy, filtered drinking water virtually anywhere.
The Process:
Draws in Humid Air
Antibacterial Mesh Filter
Air is Condensed
Water is Filtered
Water is Stored
Drinking Water
Why this works and is

sustainable for the future
Where there is moisture in the air, there's water to create! We're now able to harness condensation and use it to create safe, healthy, filtered drinking water virtually anywhere.

Atmospheric water generators (AWG) use technology to make water from surrounding humid air. This allows for the potential to expand water availability during outages, contamination events, and other issues that can interfere with drinking water services. Natural disasters, such as tsunamis, and city water infrastructure failures, such as pipe corrosion/failure resulting in contamination issues, have greatly increased the interest in AWG technology. Interest has risen greatly in both emergency and long-term supply solutions.
Our Patented Technology
Our patented technology filters the air and cleans the water to eliminate pathogens that may be present. Multiple patent designer Richard Mayer has more than 10 years of research and design regarding Atmospheric Water Generator (AWG). The filtered water is dispensed with an extremely low (near 1) Heterotrophic Bacteria count. The stored water stays contaminant-free while in the Water Storage Tank and passes through two last filters before being dispensed. Call now to learn more (888) 601-3737.
The Why

behind the science
Water
Scarcity
There is an increasing trend in water scarcity over the entire 20th century with trajectories continuing to rising scarcity. The majority of the global population is now considered under water scarcity compared to the 1900s. From 14% to 58%.
https://www.nature.com/articles/srep38495
The Atmospheric Water Generator Solution
AWGs can serve as an off-grid stand-alone technology that produces water where installed, rather than transporting water from another location. The systems are used not only as an emergency water supply in natural disasters but also as an alternative to the declining quality of tap water and increasing demand and prices of bottled water.
https://bit.ly/3M5uKuH
Plastic Waste & Pollution
Over one million plastic bottles are purchased in the U.S. every 60 seconds. Plastic water bottles are playing a huge part in the millions of tons of plastic waste that end up in the world's oceans every year.
https://www.grandviewresearch.com/industry-analysis/reusable-water-bottle-market
Sustainable solutions to water crisis
AWGs can alleviate stress on our freshwater resources while transforming the water industry to be more efficient and sustainable for individual households to control their water supplies.
https://books.google.com/books?hl=en&lr=&id=-kE3w3ILtf8C&oi=fnd&pg=PA127&ots=5gTOEIRyc9&sig=kmxa-tx52Ph4618ttJCXBBM1cbk#v=onepage&q&f=false
State-of-the-art patented open source 6-stage filtration system including a mesh pre-filter guaranteeing safe, clean, healthy drinking water. Post bacteria count of 1 Heterotroph, with a dispensing pH of 7-8.5. Produces drinking water and has the highest quality and purity available. Enjoy mineral-rich water free from contamination even in polluted, dirty, and industrial areas. The filtration is great for airborne particles and residuals that come from airplanes and other machines.
Manufactured & Designed in-House.
As the manufacturer and utility patent holder of the AWG, you are getting state-of-the-art quality with unmatched customer support. Your machine is backed for 10 years. Most companies are private label resellers or purchasing overseas in bulk with no end-user support. Our team has been building and working on this project for over 10 years.
Less room
for errors.
The H2O Machine™ does not have lots of moving parts like others; no HOT/COLD functions, no UV lights, and no major things to stop you from producing safe, clean, healthy drinking water. Change filters in minutes about once a year. The machine is well built, plug and play, and backed by an iron-clad warranty.
Low cost of ownership.
Consumables needed are every 12-18 months (or 1000 gallons) which includes all 5 filters, the initial black storage tank, and mesh pre-filter. You can even use your own filtration and storage tank, or daisy chain them for a greater storage capacity.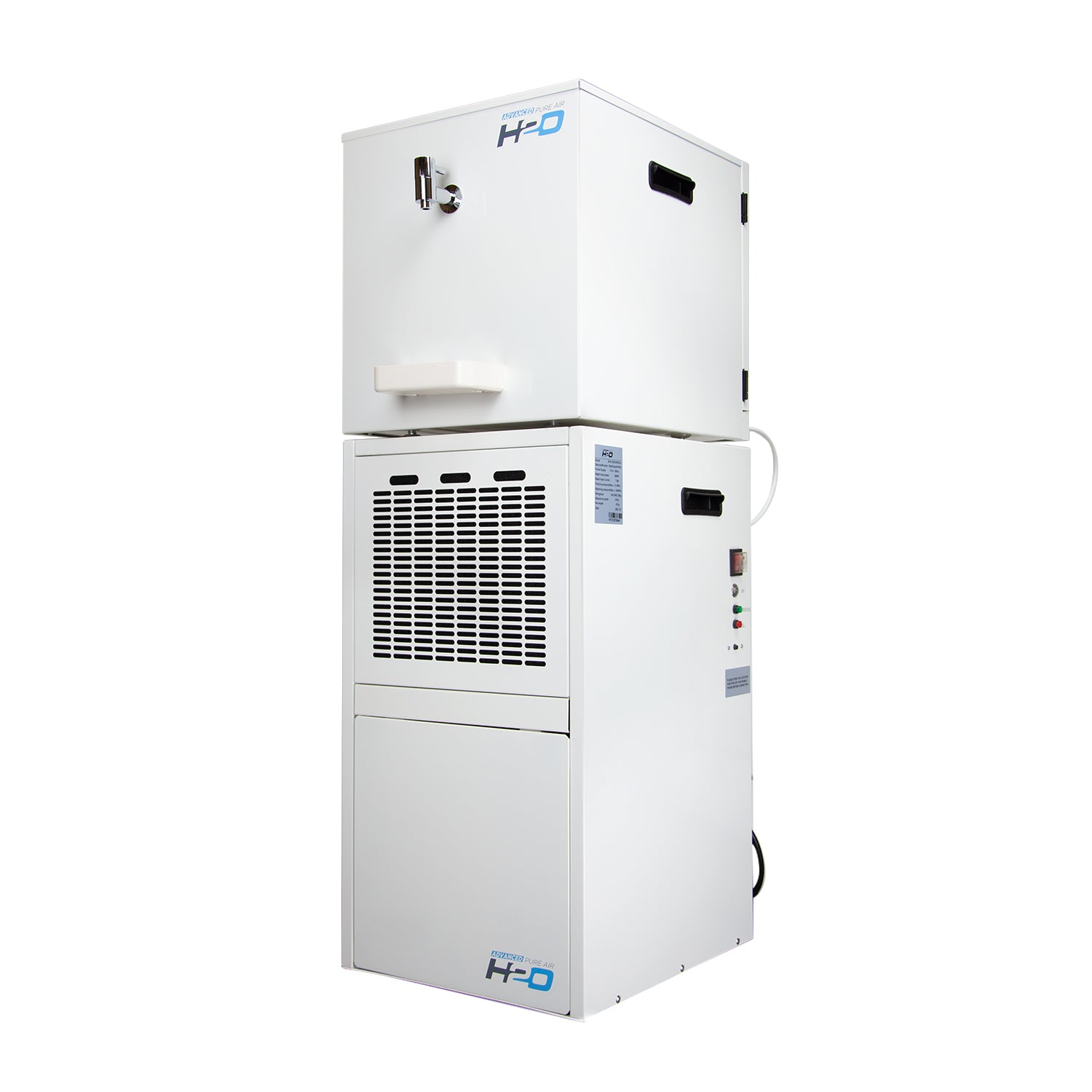 Only 2 units left
Create over 50L of safe, healthy, filtered drinking water virtually anywhere
Creating your own water from the air has never been so simple. In under 15 minutes, you can set up the H2O Machine and start producing clean water.
The H2O Machine is extremely cost-effective and can generate up to 15 gallons of water per day. It provides high-quality water for your daily needs and tasks.
Easy 10-Minute Installation
Save money and install in less than 10 minutes. Just to plug it in and start producing clean, safe, drinking water. The best option for making water virtually anywhere, and easy to transport from location to location. The best part is the unit is lightweight, and easy to move from one place to another. Check out our installation notes.
Installation Notes:
When turned on the compressor will activate in a few minutes, if your humidity is above 30-40% you will start creating water. You should see water production within 48-72 hours. Do not turn off or unplug the unit during this time.

For new filters or initial setup, when water first flows it flushes out some of the carbon which turns the water gray. Let the water run until clear, and only consume the gray water in survival situations. It is not harmful.

The H2O Machine will turn off around 30-40% humidity.

Red light indicator means the storage tank is full.

Green light indicator means the H2O Machine is working.

Sometimes the indicators need time to calibrate, and may not display correctly at first.

The filters should be changed every 12-18 months, including the initial black storage tank, and mesh air filter.

Click here to watch our set up & installation video.